Upcoming Torah Readings
Upcoming Torah Readings
Practice Torah readings from an image of the Torah you'll be using
To find an upcoming reading, scroll down and click on the link for your date that includes the number of your reading (there are usually seven readings and a maftir on Shabbat; fewer for other days.) See the note at the bottom of the page to help decode filenames and find your reading on the page.
To see Torah Portions with and without vowels (online Tikkun) with audio options, you can use Scrollscraper or the Ort Bible site.
To join the Beth Emeth leyning list, contact Helen & Stan, Ritual-Shabbat Co-Directors.
Learning Torah Trope? Here are recordings to help.
Practicing way ahead? Go to the webpage for your scroll (see the site menu in the right-hand column).
NOTE: These photo files are meant to be used on the computer; if you do print them, please bring printouts to the Beth Emeth or Religious School office for proper disposal in a Geniza.
---
Upcoming Torah Readings
Saturday, September 30, 9:00 AM, Shabbat/Sukkot Day 1
Sunday, October 1, 9:00 AM, Sukkot Day 2
Saturday, October 7, 9:00 AM, Shabbat/Shemini Atzeret
Sunday, October 8, 9:00 AM, Simchat Torah
Saturday, October 14, 9:00 AM, Bereishit (P'ru Urvu, BM)
Saturday, October 21, 9:00 AM, Noach
Saturday, October 28, 9:00 AM, Lech-Lecha
Saturday, November 4, 9:00 AM, Vayera
Saturday, November 11, 9:00 AM, Chayei Sara
Saturday, November 18, 9:00 AM, Toldot
Saturday, November 25, 9:00 AM, Vayetzei
Saturday, December 2, 9:00 AM, Vayishlach
Saturday, December 9, 9:00 AM, Vayeshev, Hanukkah
Saturday, December 16, 9:00 AM, Miketz
Saturday, December 23, 9:00 AM, Vayigash
Saturday, December 30, 9:00 AM, Vayechi
All readings: Cerny_058-059.jpg
Do you need help finding your date above? If you are practicing ahead and your portion is not indexed here yet, you can find it on one of the sub-pages containing links to all the photos for each Torah. Ask the leyning coordinator or your tutor which Torah you'll be using.
---
* Filenames: Once you open the correct photo using the links above, understanding the photo's filename may help you find where your reading starts in the image.
Filenames in the Cerny, Etz Chayim, and Robinson Torahs indicate the page numbers in the Ktav Tikkun, where you can find verses corresponding to your reading. (Note: sometimes there is a slight difference between where the Torah "paginates" vs. the Tikkun.)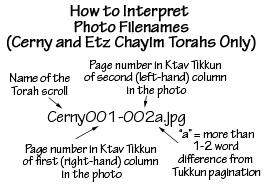 In our other Torahs, the columns need to correspond better with the pages in the Tikkun. Therefore, a naming convention has been used for these photo files, indicating the first and last complete verses included in the photo. This is explained below.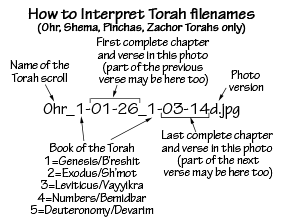 ** If more than one file is listed for your reading, check with the Leyning Coordinator to find out which Torah scrolls you'll be reading from (sometimes, we don't know too far in advance.)
Sat, December 2 2023 19 Kislev 5784