Robinson Torah
The Robinson Torah will be dedicated at Beth Emeth's Shabbat Morning services on Saturday, January 23. This torah will be on loan to Beth Emeth from Steve & Karan Robinson. For links to attend Shabbat services on Zoom, and information how to reserve (distanced) seats to attend in person, see our Services Page.
The Robinson Torah has a very long history with Steve's family, starting with his great grandfather in Poland, then moving to England, then Ireland for quite a few years before coming to the US in 1904 and landing in the Boston area, then moving to Hyannis, Massachusetts on Cape Cod. Since the Orthodox community in Hyannis has dwindled, Steve's father has handed it to Steve so that it can be cherished and actively used in our congregation going forward.
On January 23, Steve Robinson will share the long and interesting history of his family's Torah. After the dedication, we will add a more detailed history of the Robinson Torah on this page -- stay tuned.
We are very grateful to Steve & Karan for loaning the Robinson Torah to us. Look for the Torah cover with the green shamrock!
---
Photos of the Robinson Torah for Learning Readings
Filenames: Understanding the photo filenames may help you find the correct photo and where your reading starts in the photo. (The diagram below also applies to the Robinson Torah.)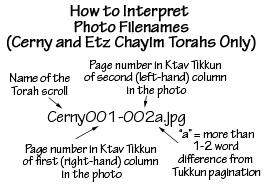 Vayikra - Leviticus
Photos coming soon
Numbers - Bemidbar
Photos coming soon
Deuteronomy - Devarim
Photos coming soon
Tue, August 3 2021
25 Av 5781
We now have in-person options for selected services and BEECC Preschool! Our COVID-19 Guide has all related information. Also, we are collecting mail daily.
We continue to be in full compliance with Virginia Executive Order 72 regarding health precautions, including recent updates.
Tue, August 3 2021 25 Av 5781