Robinson Torah
Thank you to Steve & Karan Robinson and the Robinson family, who have loaned their family Torah to Congregation Beth Emeth for our use and learning.
The Robinson Torah is at least 127 years old. It was acquired by the Robinson family around 1894 in Londonderry, Ireland. Steve Robinson's great grandparents were married in 1890 in Liverpool, England and subsequently, his great grandfather, Barnet, wanted to move to Londonderry, Ireland. His great-grandmother, Hya, insisted that the only way she would carry would be if Barnet would guarantee her a shul with a minyan there. Barnet convinced a group of friends and family to move to Londonderry. They established a shul and obtained a Torah from Poland, and in 1894, Barnet became the shul's first president.
In 1907, Barnet emigrated to Roxbury, MA. He was followed a year later by Hya and their seven children. The oldest, Steve's great uncle Sam, then 14, was put in charge of keeping the family Torah safe during the long journey. The Torah was housed and used at the Crawford Street Shul (Beth HaMidrash HaGadol) for 56 years, from 1908 to 1964. After this shul closed, Steve's grandfather, Gustavious Robinson, brought the Torah to Beth Israel in Quincy, MA, where it was used for 44 years. In 2008, this shul closed, and the Torah was held for safekeeping at the Maimonides School in Brookline, MA. In 2012, Steve's father, William Robinson, placed the Torah into service at his shul, Anshei Chesed in Hyannis, MA, on Cape Cod. As his shul was no longer using this Torah, he graciously offered it to Steve and Karan to be used at CBE.
The Robinson Torah was dedicated at Beth Emeth on January 23, 2021, in honor of the 65th wedding anniversary of Steve's parents. We look forward to using the Robinson Torah at CBE for many years.
---
Photos of the Robinson Torah for Learning Readings
Filenames: Understanding the photo filenames may help you find the correct photo and where your reading starts in the image. (The diagram below also applies to the Robinson Torah.)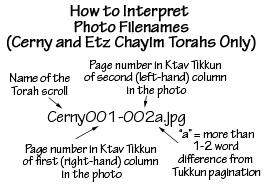 Vayikra - Leviticus
Photos coming soon
Numbers - Bemidbar
Photos coming soon
Deuteronomy - Devarim
Photos coming soon
Sat, December 2 2023 19 Kislev 5784