Cerny Torah
This Torah is at Beth Emeth on indefinite loan from the Cerny family.
The Cerny Torah was originally commissioned by CBE member David Cerny's parents, William and Berta Cerny, for use in their synagogue in Skokie, IL and was dedicated there on September 25, 2011. The Torah was primarily created as a memorial for four of David's uncles and aunts and a cousin who perished during the Holocaust. It had always bothered David's parents that their siblings and nephew had no place where their names were inscribed, as they died during the war and there were no graves with a marker to commemorate them. It was as if they never existed.
As with other Torahs, the Cerny Torah has two covers – one for everyday use and one for the High Holy Days. The everyday cover has a dedication to honor David's immediate family, while the High Holy Day cover is embroidered with the names of Cerny family members who were killed during World War II.
It was David's parents' wish that once they are no longer affiliated with the synagogue where the Torah was dedicated, the Torah should go where it can be enjoyed by someone in their family. Congregation Beth Emeth is pleased to have been chosen for this honor.
A dedication for the Cerny Torah was held at Simchat Torah, September 26-27, 2013. Because this Torah has extraordinarily clear and beautiful calligraphy and the format corresponds closely to the Tikkun (the book from which we practice reading Torah), we expect to use this Torah regularly as long as we are privileged to host it at CBE.
---
Photos of the Cerny Torah for Learning Readings
Filenames: Understanding the photo filenames may help you find the correct photo and where your reading starts in the photo.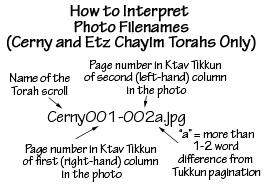 Sat, September 18 2021
12 Tishrei 5782
We now have in-person options for selected services and BEECC Preschool! Our COVID-19 Guide has all related information. Also, we are collecting mail daily.
We continue to be in full compliance with Virginia Executive Order 72 regarding health precautions, including recent updates.
Sat, September 18 2021 12 Tishrei 5782