Cerny Torah
This Torah is at Beth Emeth on permanent loan from the David Cerny family.
The Cerny Torah was commissioned by David Cerny's parents, William and Berta Cerny, for use at their shul in Skokie, IL. It was dedicated there on September 25, 2011. The impetus for commissioning the Torah was to provide a way for family members murdered in the Holocaust to be remembered. David's aunts, uncles, and cousins weren't buried anywhere, and there was no permanent place where their names were engraved. It seemed to William and Berta as if their siblings and a nephew never existed because there was no marker with their names on it for them to be remembered. The Torah would serve as that permanent marker for all their names.
The Cerny Torah has two covers, one for everyday use and the other for the High Holy Days. The standard cover has the dedication plaque woven into it to commemorate the Torah's original dedication in 2011, honoring William and Berta and their sons, David and Tom. The High Holy Day cover has five names embroidered on it: William's brother Mickey (Menachem) and sister Blanka (Blima Tzipora), along with Blanka's young son Zev and Berta's sister Sidi (Sara Rivka) and brother Martin (Meir).
David's father passed away in 2012, and the family was no longer affiliated with the Skokie shul. It was David's parents' wish that family members enjoy the Torah. It was brought to Congregation Beth Emeth and dedicated here on Simchat Torah, September 26-27, 2013.
The Torah has extraordinary and precise calligraphy, and its format conforms closely to the Tikkun (the book from which we practice reading the Torah). It is one of the lightest Torahs at CBE and, thus, very easy to lift. It is, therefore, used quite often and has been the primary Torah read from during the period when COVID-19 precautions dictate only one person is on the bema to lift and dress the Torah.
---
Photos of the Cerny Torah for Learning Readings
Filenames: Understanding the photo filenames may help you find the correct photo and where your reading starts in the image.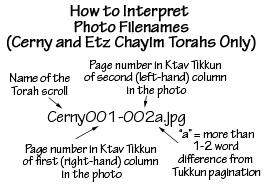 Sat, September 30 2023 15 Tishrei 5784