Special Readings
Filenames: Understanding the photo filenames may help you find the correct Torah photo and where your reading starts in the photo. In the actual Torahs the columns often do not correspond with the pages in the Tikkun. Therefore a naming convention has been used for these photo files, indicating the first and last complete verses included in the photo.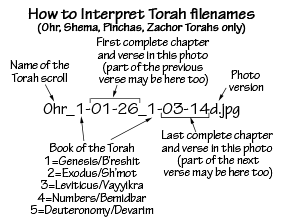 Pinchas Torah
This Torah is used only for the special Pinchas portion which is read as the maftir on many holidays and on Rosh Chodesh.
Photos for Pinchas only -- See above key to filenames.
Rabbi Grosz Torah
This torah is on temporary loan to CBE from Rabbi Bonny Grosz.
Photos for Re'eh only -- See above key to filenames.
Rabbigrosz_5-11-23_5-12-27.jpg
Rabbigrosz_5-12-10_5-13-13.jpg
Rabbigrosz_5-12-28_5-14-20.jpg
Rabbigrosz_5-13-15_5-15-09.jpg
Rabbigrosz_5-14-22_5-16-09.jpg
Rabbigrosz_5-15-11_5-17-06.jpg
Megillat Esther
Note: Filename shows first complete Book of Esther chapter/verse and last complete chapter/verse in CBE's Magilla.
Magilla_01-01_02-02.jpg
Magilla_01-14_02-12.jpg
Magilla_02-04_03-01.jpg
Magilla_02-14_03-11.jpg
Magilla_03-03_04-10.jpg
Magilla_03-13_05-05.jpg
Magilla_04-12_06-03.jpg
Magilla_05-07_07-01.jpg
Magilla_06-05_08-02.jpg
Magilla_07-03_08-11.jpg
Magilla_08-04_09-05.jpg
Magilla_08-13_09-09.jpg
Magilla_09-07_09-18.jpg
Magilla_09-11_09-26.jpg
Magilla_09-20_10-03.jpg
Recordings of the Megillah blessings and readings:
Sat, September 18 2021
12 Tishrei 5782
We now have in-person options for selected services and BEECC Preschool! Our COVID-19 Guide has all related information. Also, we are collecting mail daily.
We continue to be in full compliance with Virginia Executive Order 72 regarding health precautions, including recent updates.
Sat, September 18 2021 12 Tishrei 5782