Facility Rental
Facility Rental
Simchas & Celebrations
Make Memories at Beth Emeth!
Our beautiful facilities at Beth Emeth allow you to plan your simcha celebration in the ideal setting.
Whether the occasion is your child's Bar/Bat Mitzvah party, a wedding celebration, a bris, baby naming or anniversary party, Beth Emeth is the perfect place to celebrate the meaningful moments in your family's life!
Our event staff serves as a guide throughout your event planning process, offering expertise and suggesting vendors, to ensure a well-run and meaningful experience.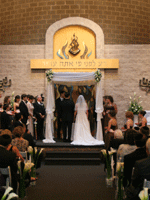 Photos: Freed Photography
For more information on reserving Beth Emeth for your event please contact food-service@bethemeth.org.
Sat, December 2 2023 19 Kislev 5784