Green Spaces
Green Spaces
What are "Green Spaces"?
You may have noticed two new signs in the CBE parking lot, reserving two "Green Spaces" near the school wing door. This initiative is meant to draw attention to the need to conserve energy for environmental reasons as well as to move towards energy independence. With this in mind, we have reserved these two parking spaces for vehicles that reduce oil use, such as hybrid, electric, natural gas or those vehicles that get more than 35 miles per gallon in combined city and highway driving.
In reserving these spaces, CBE is participating in a national program initiated by the American Jewish Committee (AJC), which has long advocated an energy policy that both protects our environment and reduces our nation's dependence on hostile energy sources.
You can read more about this program and how you can help in AJC's Green Spaces flyer.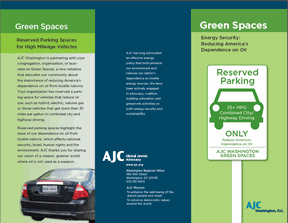 Thu, June 4 2020
12 Sivan 5780
Our building is closed, but the Beth Emeth community is open! Please go to our COVID-19 page for online services, classes, activities, updates and other resources. Also, we are collecting mail daily.
Thu, June 4 2020 12 Sivan 5780